Extractability
AUTO DEDUSTING SET
PART NUMBER: EXT97901110230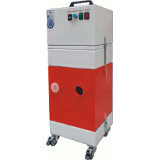 £697.22
(Inc. VAT)
Out of Stock
Mininimum Order Quantity: 1
Description
The ProtectoTwin is a twin port high-pressure turbine with infinitely adjustable speed control specifically designed to extract and filter metal particulate fumes created in welding processes. The ProtectoTwin is supplied with a 2.5m hose and magnetic foot welding nozzle. ProtectoTwin is fitted with a BIA M filter cartridge that filters hazardous substances to an extent of more than 99 per cent. Dual Port facilitating local extraction via hood and torch extraction from a single unit. The filter can be cleaned manually or automatically with compressed air, providing a long filter life. The particles are collected in a dust collection drawer and can be easily removed from the unit. On castors 25 kg. Operates from a 230v mains input supply.
Specification
Brand
Downloads
Product Information
SAFETY, CONSUMABLES, WELDING & TRAINING
All prices exclude VAT unless otherwise stated. Errors and omissions excluded. Products specifications are subject to change.