Extractability
4M X 150MM EXTRACTION ARM
PART NUMBER: EXT9760300012111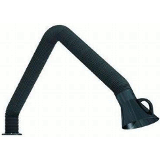 £999.38
(Inc. VAT)
Out of Stock
Mininimum Order Quantity: 1
Description
Suction arm, 4m, diam.150mm. Hose type, internal joints. Suction arm hose-type with internal joints for mobile filter units. The suction arm consists of an internal linkage made of aluminium. Due to the convenient arrangement of the springs it is very easy to move the suction arm in every requested position. It is possible to turn the suction hood with integrated throttle valve in every direction. The arm can be used for mobile units and also for wall mounting after changing the position of only one screw.
Specification
Brand
SAFETY, CONSUMABLES, WELDING & TRAINING
All prices exclude VAT unless otherwise stated. Errors and omissions excluded. Products specifications are subject to change.